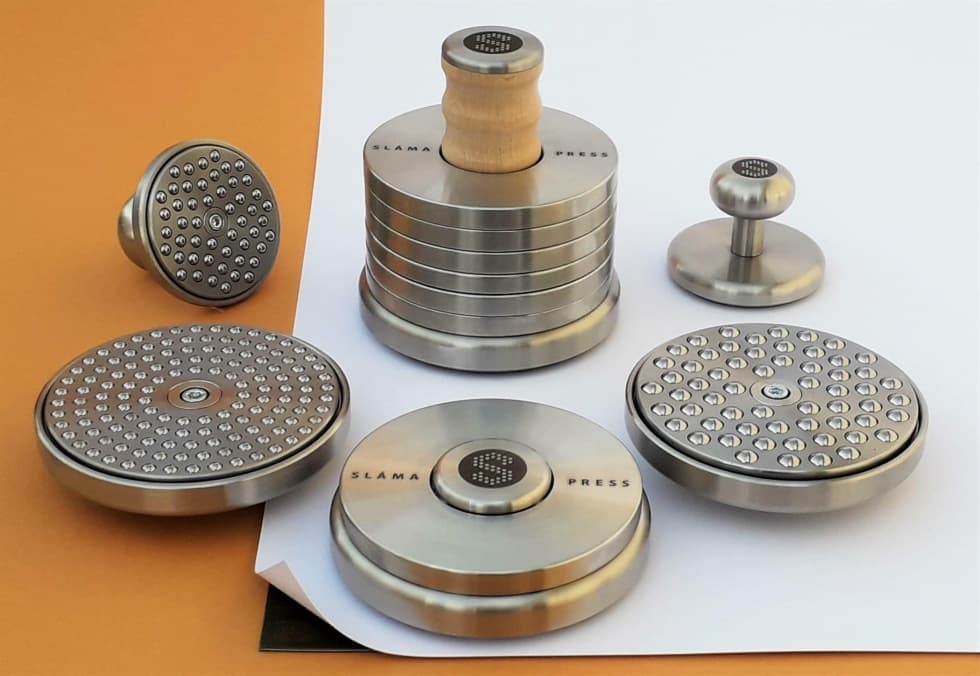 BALL GRAPHIC PRESS • SLÁMA PRESS
THE SLÁMA PRESS is a unique tool designed for hand relief printing (linocut, woodcut), intaglio printing (dry point, etchings, aquatint, mezzotint) as well as lithographic processes. The printing press utilizes the pressure of rotating steel balls. In contrast to rotary printing presses its main advantage lies in a low purchasing price, possibility of printing on paper as well as fabric to any size and easy storage. The press does not require a great physical force and can be used by children too.
It is manufactured in two sizes: a small steel set for small-size printing and a large set with a
wood handle and additional weights suitable for larger formats. The presses are delivered in wood stands. The complete set containing both presses offers a professional solution for printing of all formats.

Designed and manufactured in the Czech Republic, protected by the Industrial Property Office of the Czech Republic and OHIM EU.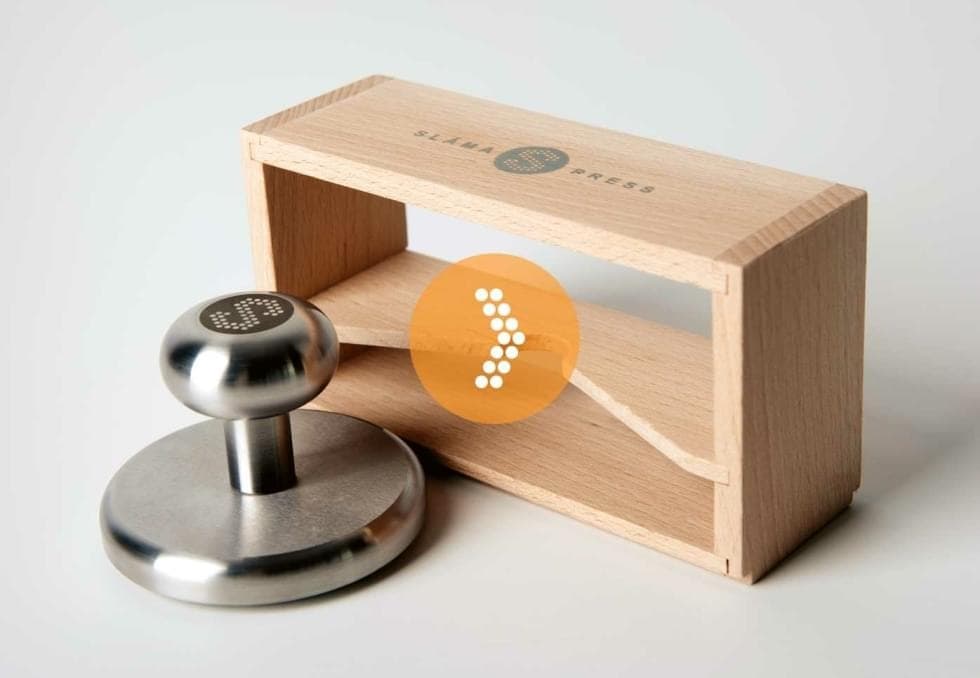 It is especially in Japanese art that hand presses have been used for hundreds of years. They may be tools manufactured by traditional methods such as "knots" from rice fibres or modern ones containing steel balls, so-called barens. These tools are traditionally used; however, the drawback is that they cannot be used when printing on paper of higher grammage which is usually used in Western art in contrast to the East. Thanks to its robust construction the Graphic Press Sláma offers much more versatile use than baren.
The original feature of the Graphic Press Sláma also lies in the way the balls are mounted as they rotate around their axis while fixed in a cage which rotates around the axis of the press. This technology allows high-quality printing while preventing the balls from falling out at the same time. This feature makes the Graphic Press Sláma significantly different from similar tools that have appeared on Czech market lately. It is apparent these products copy the Graphic Press Sláma, however a less than high-quality method of attachment of the balls as well as a smaller number of balls do not prevent them from falling out of the press. This reduces the quality of the tool and printing significantly.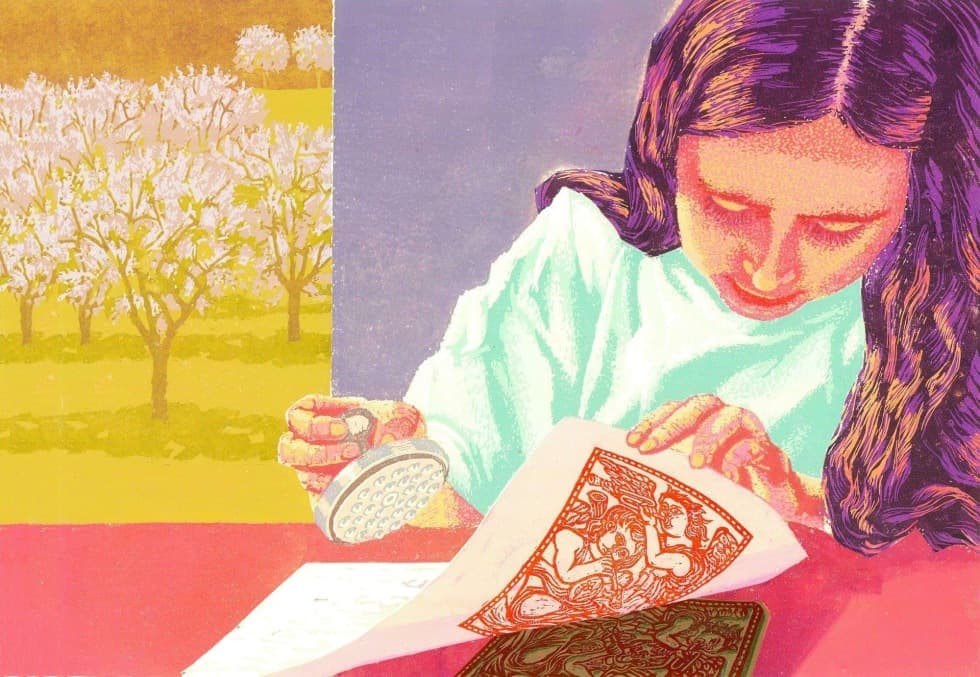 NOT JUST FOR PROFESSIONALS
THE S L A M A P R E S S is a unique tool offering user-friendly and fun hand printing to enrich art classes and workshops as well as leisure activities. It will allow printmakers from an early age to easily print the products of nature, objects or simple engravings while it will help more experienced printmakers try basic printmaking techniques. The press is fun to use for printing on paper or to design your own print for T-shirts, scarves etc.
A small size and light weight make the printing press ideal to carry around when travelling, be it on holidays or schools in nature.
Unlike working with a classic rotary press THE SLAMA PRESS can be used to print out of doors, outside classrooms and workshops. Teachers will also appreciate the opportunity of parallel printing for a number of young artists who need not queue for a print on a single school printing press.
Simple and safe to use, THE SLAMA PRESS is an attractive tool for a wide range of non-professional artists, including people with disabilities or the elderly. The small press is suitable for children from the age of five.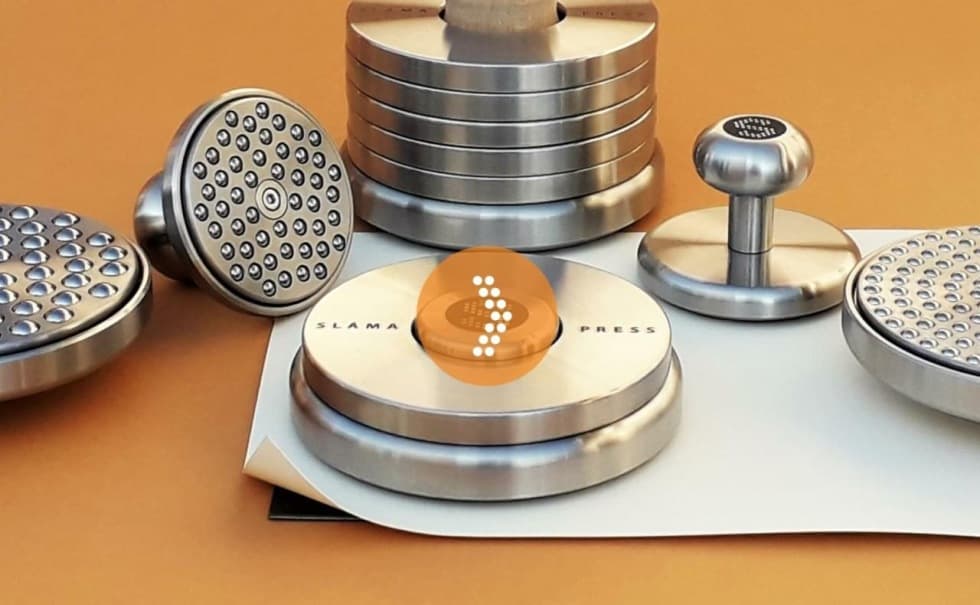 Put a sheet of paper or fabric on a matrix topped with ink and fix it with one hand to prevent it from moving. Taking the press into your other hand place it on the paper or fabric and start moving it in any direction until achieving the desired print. The printing technique does not require great physical force and the press can be safely used by children.
When printing on wet paper of low grammage (intaglio printing) place one more sheet of dry paper on top to enable a smoother movement of the press. Additional weights, up to five pieces, can be used with the large press to achieve greater pressure.
Please, note: The press is not suitable for printing from a distorted (bent) matrix or for dry seal printing.
MAINTENANCE
Maintenance: Unscrew the lower bolt and take out the ball cage. Remove any impurities from the inside of the body of the press. After cleaning screw the cage back on. The balls can be gently lubricated with oil by running the press on slightly oiled paper.